During the draft, obviously  stars are the main focus. However, during the season once all the stars are rostered, a good owner, whether season-long or DFS, knows when, where, and how to look for the potential next generation of big names.
For example, Brock Boeser was the November Rookie of the Month with 11 goals and five assists. The time to add Boeser has almost passed (he is 74% owned in Yahoo! leagues). Who will be the next Boesser? So, how about a few more names of up-and-comers, and why.
Matthew Barzal, C, New York Islanders, 55% Yahoo! Owned: The Islander's 1st round (16th overall) draft pick in 2015, is an excellent puck handler, sees the ice well, and looks for the pass option. Barzal's skills are evident by 19 assist points, and the Center, actually, had more points (17 pts. over 12 games) than Boeser (16 pts. over 15 games) during November. His fantasy points did not come from goals (three) but from assists (14). For the entire season, Barzal has eight goals and 19 assists, and he is the Center for the 2nd line and is averaging 16:32 minutes per game. Time may be running out to add Barzal, so if there is room to be made on your roster, add him.
Kyle "not the son of Sarah" Connor, LW, Winnipeg Jets, 17% Yahoo! Owned: Kyle Connor, called up from the AHL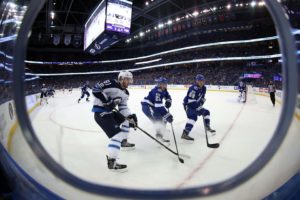 in mid-October, has elite speed and an eye for seeing plays develop which is why "not the son of Sarah" Connor is already playing on the first line with Mark Scheifele and Blake Wheeler. Through 23 games this season, the Winger has 9 G/8 A; averages 17:56 minutes per game and 3:05 PP minutes per game. Kyle Connor's peripherals suggest he is not a fluke and his production will continue.
LATER: young players to keep an eye on.
Andreas Athanasiou (A2), C, Detroit Redwings, 4% Yahoo! Owned: Andreas Athanasiou, like Connor, is a speedster and can create break away opportunities. A2 held out the beginning of the year due to contract negotiations, and has only played 18 games this season. Fantasy Hockey players had a moment of excitement and hope November 15th when A2 scored 2 goals, but has only hit the net once since. Don't give up on The Speedy Center. The two goals in November were scored while skating with Dylan Larkin and averaging over 20 minutes a game. Since then, the young Redwing has been averaging only 15:24 minutes of ice time – 14:08 minutes his last five games. The Redwings have been playing A2 at Center on the 4th line and sometimes at Wing with Larkin during PPs. Playing Center is more natural to A2 and provides the opportunity to exploit elite speed. Redwings' coach Jeff Blashill said that when Andreas gets the puck, he really skates which is difficult at Wing. Anthansiou still needs to develop but could increase playing time and/or get promoted, so monitor the speedy center and get ready to add him.
Dylan Strome, C, Arizona Coyotes, 4% Yahoo! Owned: Dylan Strome was drafted 3rd overall by the Arizona Coyotes in 2015 and recalled late-November from the AHL, having only played seven games this season. Strome is averaging 12:30 minutes a game and has nine SOG with the first NHL goal on December 2nd against the Devils. It's a little difficult to get excited about Strome since he is playing for the Coyotes, but the Coyote Center is a skilled and competitive player. Like Andreas, monitor Strome's playing time and line for a possible great addition later in the season.
Follow Elaine @ElaineC_Speaks.