There are five NHL games on the Sunday January 21st slate at Draft Kings. The two matchups blinking before my eyes are the Winnipeg Jets at home against the Vancouver Canucks, and the Vegas Golden Knights away against the Carolina Hurricanes.
The Jets are a high scoring team, with 153 Goals For, making the Canucks' 147 Goals Against  "Furloughlicious." The matchup between the Vegas Golden Knights and the Carolina Hurricanes should be as profitable. The Knights have 153 Goals For, while the Hurricanes have 140 Goals Against. Expected to man the net for the Hurricanes is Scott Darling  which an .867 save percentage and 4.30 Goals Against Average over his last five games.
The standard lineup at Draft Kings consists of two centers, three wingers, two defenders, one goalie, and one utility player.
Expected Goalies for Sunday, 21 January
| | | |
| --- | --- | --- |
| Team | Goalie | Price |
| Anaheim Ducks | John Gibson | $8,100 |
| Carolina Hurricanes | Scott Darling | $6,900 |
| Los Angeles Kings | Jonathan Quick | $7,800 |
| New York Rangers | Ondrej Pavelec | $7,400 |
| Philadelphia Flyers | Brian Elliott | $7,300 |
| San Jose Sharks | Aaron Dell | $7,300 |
| Vancouver Canucks | Anders Nilsson | $7,000 |
| Vegas Golden Knights | Marc-Andre Fleury | $8,400 |
| Washington Capitals | Braden Holtby | $8,200 |
| Winnipeg Jets | Connor Hellebuyck | $8,300 |
 Sponge Worthy (player worthy of his high price). San Jose Sharks D Brent Burns ($7,200) Brent Burns is the most expensive Defenseman on the slate which is no surprise as the Sharks has 1 G, 11 A, and 10 PIM for an average 6 FPPG his past ten games. The prolific defenseman is up against the Ducks who average 2.6 goals per game.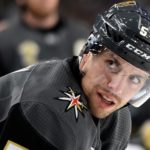 Vegas Golden Knights LW David Perron ($5,300) The Golden Knight Winger is coming off two strong games and has a great matchup against the Hurricanes skating on the 2nd line with Erik Haula and James Neal.
Anaheim Ducks RW Jakob Silfverberg ($4,800) Silfverberg has the potential to score and will go against the Shark's 2nd line defense pairing of Justin Braun and Marc-Edouard Vlasic.
Winnipeg Jets D Tyler Myers ($4,200) Myers is streaky. The Jet defenseman has been getting power play time and has a great matchup against the Canucks to exploit his low price.
Amygdala Pick (my emotional pick that has little to do with logic or stats). Winnipeg Jets LW Kyle "Not the Son of Sarah" Connor ($5,700) He's due – not in the gestation sense of the term. But maybe?
Follow Elaine @ElaineC_speaks.