Pitchers and Catchers report soon, and I am getting excited about baseball starting. In the cubicle world, we are organizing Ball Park Food Day for February 15.
BUT!  We still have a lot of hockey so re-energize yourself. The image for this article is exploding excited electron (E3) bubbles. E3 – that's what we want to be, not inert satisfied noble gases. Ok, enough nerd talk. The point is that when it comes to Fantasy Hockey and Baseball, you gotta want it.
The deadbeats in my league are beginning to sink (Psst… deadbeats are good targets for a trade). After giving my team a makeover, I'm charged for the second half of the season. The waiver wire is your friend. The two hyped players appearing in multiple articles are Travis Konecny and Anthony Beauvillier. I'm not going to discuss them but if they are on your waiver wire, they are worth consideration.
On the other hand, here are four players who might do well as roster fodder for your team.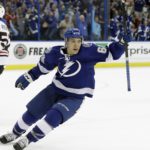 Yanni Gourde, C/RW, Tampa Bay Lightening, 34% Yahoo! Owned: Oooo Yanni! (Chasing Amy reference) – had to do it. Gourde, who started the season ranked 499, is currently rlisted at 83 for the season and 43 over the last 30 days. The Lightening skater, with multiple position eligibility, has 17 goals, 18 assists and a plus-21. Oooo Yanni is averaging 3.9 points a game over the last 30 days,  has a high ceiling and plays on a prolific team.
David Perron, LW/RW, 62% Yahoo! Owned or Erik Haula C/LW, 42% Yahoo! Owned, Vegas Golden Knights: Las Vegas just set an NHL record with 34 wins in an expansion season. David Perron and Erik Haula are skating on the 2nd line and getting points. Perron is on a seven-game point streak, and Haula is on a five-game point streak. Perron has been steady over the course of the season with 13 goals and 31 assists; however, Haula has been picking it up with 19 goals and 18 assists. It's a win-win. If both are available take your pick.
Alex DeBrincat, LW/RW, Chicago Blackhawks, 22% Yahoo! Owned: The Blackhawks rookie is hmm…. how to describe him? DeBrincat isn't really streaky. I'd have to say Digital; 0's and 1's:  you get the floor or the ceiling, but it's a nice ceiling. The rookie Winger, now skating with Jonathan Toews and Anthony Duclair, got a hat trick on January 25th against the Red Wings. Adding DeBrincat is a gamble but that's kind of what we're doing here. And binary is so chic.
Tyler Myers, D, Winnipeg Jets, 61% Yahoo! Owned: Good defenders are hard to find, and I seem to have an affinity for this kid. Myers has been streaky but the potential and skills are there. What helps? Opportunity. Jacob Trouba has been placed on the injured reserve and Myers will take his place and skate with Josh Morissey. Currently, the Jets Defender has 5 goals, 21 assists and a plus-13. With the new opportunity, Myers is a worthy consideration, especially for a scarce position.
So, feeling charged? If you're like me – into eye candy – add a hottie for a couple of weeks to get the electrons moving.
Follow Elaine @ElaineC_Speaks.